U toku je konkurs za nagrade evropske baštine (Europa Nostra) za 2019. Poziv je otvoren do 15. novembra 2018.  Prosleđujemo pismo sekretara IFLA Europa…
Dear Delegates,
Dear Presidents and Secretariats of National Associations,
Dear Members and friends of IFLA Europe,
It is my pleasure to inform you that our partner Europa Nostra has published the call for entries for 2019 European Heritage Awards/Europa Nostra Awards.
The Awards recognise the best conservation projects, the most impressive research; the most dedicated heritage professionals and volunteers; and the finest awareness raising, training and educational programmes.
Architects, craftsmen, cultural heritage experts, professionals and volunteers, public and private institutions, and local communities: this is your chance to win the top heritage award in Europe!
Up to 30 remarkable heritage achievements from all over Europe will be awarded. Of those, 7 laureates will receive a Grand Prix and €10,000 each; one will be granted the Public Choice Award, chosen through an online poll conducted by Europa Nostra, the leading European heritage network.
All the winners will be celebrated at the European Heritage Awards Ceremony in June 2019. 
The EU Prize for Cultural Heritage / Europa Nostra Awards (as of 2019 the European Heritage Awards / Europa Nostra Awards) was launched by the European Commission in 2002 and has been run by Europa Nostra ever since. The Awards have brought major benefits to the winners, such as greater (inter)national exposure, increased visitor numbers and follow-on funding. The Awards scheme is supported by the Creative Europe programme of the European Union.
Submit your project and share your success across Europe! For more information please visit IFLA Europe website:
http://iflaeurope.eu/call-for-entries-2019-european-heritage-awards-europa-nostra-awards/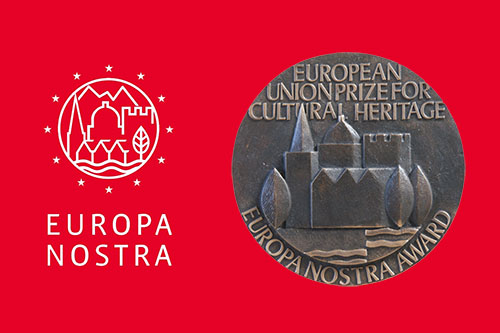 Daniela MICANOVIC IFLA Europe Executive Secretary
IFLA Europe
Please note that IFLA Europe Secretariat is open from Monday to Friday, 09.00 – 13.00hrs
Skype ID: ifla.europe
Tel. +32 492 319 451
e: secretariat@iflaeurope.eu
w:http://iflaeurope.eu
o: Boulevard Leopold II N° 53, 1080 Brussels –Belgium